ICON's (ICX) newest project was on display this past weekend at the Seoul International Digital Festival, showcasing a democratic voting platform in a collaboratory effort with several South Korean government entities.
Blockchain Gets Political
This past weekend, the Seoul Metropolitan Government hosted a convention called the Seoul International Digital Festival.
ICON (ICX) was in attendance to demonstrate its newest blockchain-based identification and voting platform, which it has appropriately dubbed 'Blockchain Seoul.' The three-part system is demonstrated in a short video which shows its simplicity and speed and includes a voter identification process, the actual vote, and a reward redemption to finish off the process.
The first step requires citizens to fill out a basic profile with their information, similar to the registration process to vote in many other countries. After the profile is compiled, an identification photo is taken and uploaded to ICON's platform using a QR code.
The individual is now able to cast their vote and is rewarded in a currency called 'S-Coin.' In the video, the voter is awarded 5,500 S-Coin, showing a value of 5,500 KRW, or nearly $5.
The final step allows the user to redeem their S-Coin for small prizes like a tote bag, sticker, or reusable water bottle — rewarding citizens for using their right to vote.
It is unclear if the ratio of S-Coin to KRW will actually be 1:1, or if the voter has the right to choose to hold the coins or if they hold any value outside of the voting platform ecosystem.
Down (But Not Out)
ICON (ICX) has fallen in line with the rest of the altcoin market after hitting an all-time high of $12 at the beginning of 2018.
ICX has since slipped back below its $1 ERC20-based Initial Coin Offering (ICO) price to an all-time low of $0.50 in August and is trading at just under $0.63 today.
In June, ICON launched a token swap, changing the previous ERC20 tokens for native ICX blockchain tokens, and deployed smart contracts three months later in its most recent mainnet version, at the time of writing.
The price, at the moment, rests in a precarious position, as it has yet to escape the downward trend line that it, along with the rest of the market, has been under for the past ten months.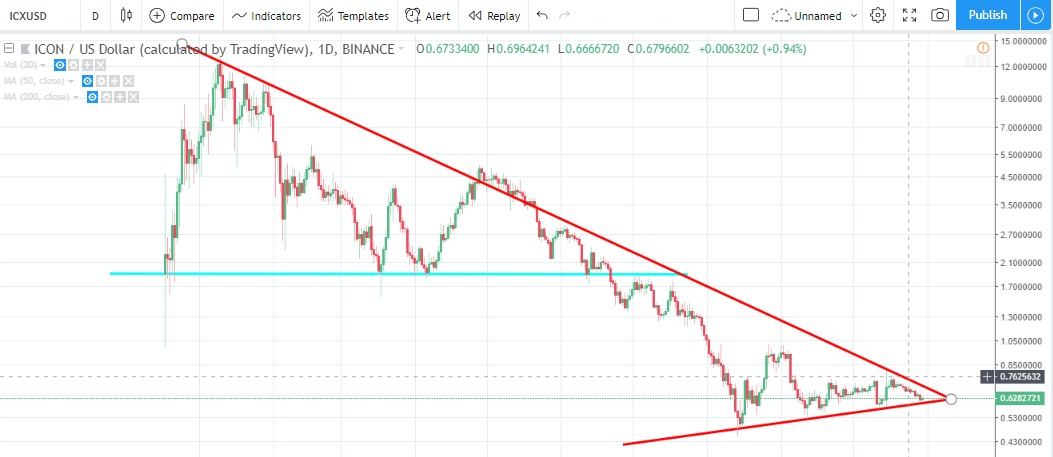 The team, however, has been putting out consistent updates, has launched a successful mainnet and token swap, and has a working product which could potentially have a wide reach in terms of blockchain and cryptocurrency adoption in the general public.
What are your thoughts on using blockchain as a platform for voting in large-scale elections? Do you think this system is safer? Let us know your thoughts in the comments below! 
The post ICON (ICX) Shows Off Blockchain Integrated Voting Platform to Seoul's Metro Government appeared first on BeInCrypto.